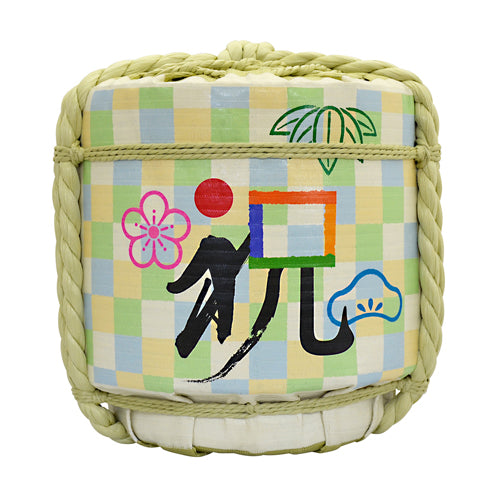 Display Sake-Barrel / Normal Type / Iwai-6 / Extra small 9
The lattice pop design of pastel colors and the Chinese character "Iwai" were decorated with the symbol "Matsu, Bamboo, Ume" of Keio and Yoshiyoshi.

Display Sake-Barrel is a Display Sake-Barrel for decorating purposes.
Japanese interior and exterior in the shop, it can be widely used as a Japanese production at the event.
There are many ways to decorate it. You can expect a powerful Japanese effect when simply stacked vertically or in a pyramid shape, or arranged side by side.
Depending on the design and lighting, it can be a calm production or a flashy production.
The large Display Sake-Barrel can be used as a Table, and there are also types that can be used for product showcases with a little in-deep at the top.
* You can't put alcohol in Display Sake-Barrel.
* Aging may cause loosening, damage, or peeling of the material.
* If it is installed outdoors, deterioration may proceed more than expected due to direct sunlight or wind and rain.
* There is a possibility that the internal core material is damaged and the shape changes when the heavy object is put on the top and a strong force is put.

Product size: Maximum diameter:30 Height:32.5 (cm)
Product body weight (kg): 1.6kg
Packing size (cm): 31×31×33㎝
Package Weight (kg): 2kg