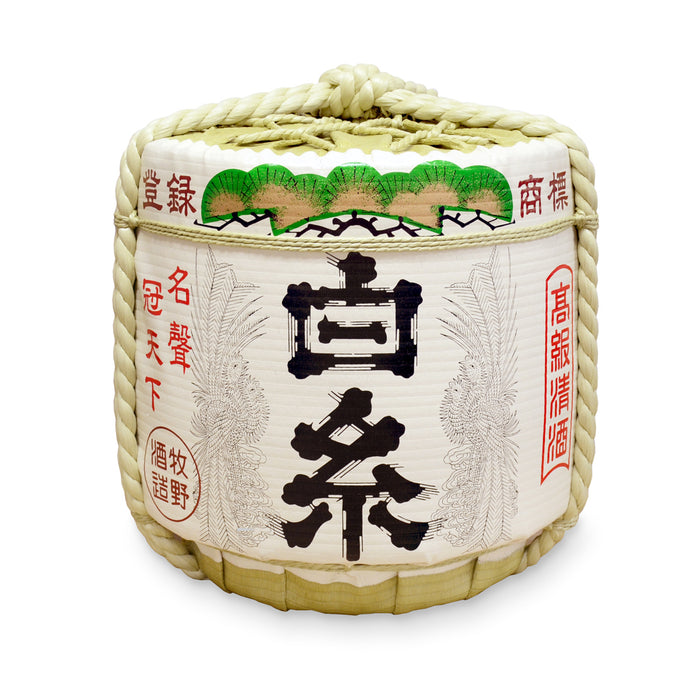 Display Sake-Barrel / Normal Type / Shiraito
Please choose your ideal size from options when you purchase.
The detail of each size is below.

Large 72

Product size: Maximum diameter 60 x height 64 cm
Product body weight (kg): 5kg
Packing size (cm): 63 x 63 x 63 cm (octagon for EMS)
Packing weight (kg): 7.5 kg (octagon for EMS)

Medium 36

Product size: Maximum diameter 50 x height 50 cm
Product body weight (kg): 4.2kg
Packing size (cm): 51.5 x 51.5 x 61 cm
Package weight (kg): 5.5kg

Small 18

Product size: Maximum diameter 40 x height 44 cm
Product body weight (kg): 2.3kg
Packing size (cm): 44 x 44 x 44 cm
Package weight (kg): 3.5kg

Extra small 9
Product size: Maximum diameter 30 x height 32.5 cm
Product body weight (kg): 1.6kg
Packing size (cm): 31 x 31 x 33 cm
Package Weight (kg): 2kg
Since 1743, Makino Brewery has been making sake in Fujimiya district, Shizuoka prefecture, and passing on the tradition of sake brewing as a Japanese culture. Craftsmen use ground water from Mt. Fuji when rinsing a large amount of rice by hands and take a lot of time with the preparation to remove bran completely. In addition, the historical sake brewery has been designated as the Structure of Landscape Importance.

Display Sake Barrel is for interior/exterior decorations to create a beautiful Japanese vibe. It can be put side by side, piled up like a pyramid, or placed as you like. Also, there are variety of sizes (from 32.2cm to 60cm), and you can choose a suitable one.
*This sake barrel cannot contain sake.
*Ropes and other materials may be damaged or come off due to deterioration over time.
*Keep the item away from direct sunlight or somewhere exposed to the rain and wind.
*Avoid applying strong force and putting heavy stuff on the item.