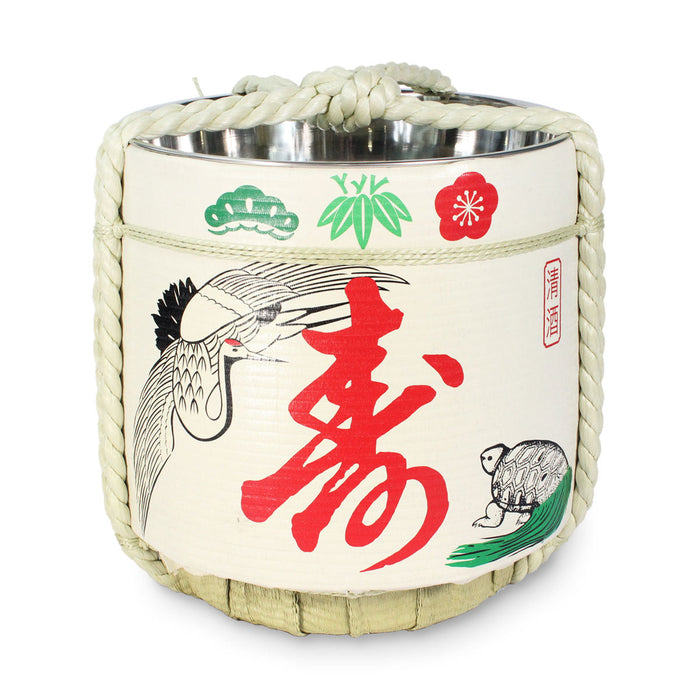 Stainless Sake-Barrel / Kotobuki (tsuru kame) / Small 7
A crane is a symbol of longevity and matrimonial happiness.
A tortoise is a creature thought to bring about good fortune.
Featuring these two lucky creatures, the rest of the design is simple with "Shochikubai" (pine, bamboo and plum) depicted on the upper part.

Sizes vary from S size (40 cm in diameter, 40 cm in height) appropriate for an event of around 20 people, to the massive L size (holding 1 "to", a traditional unit of volume of 18 liters, 60 cm in diameter, 60 cm in height) which is often used in shrines and restaurants; you can choose from large, medium and small depending on the capacity of the group.

The "kagami biraki" (sake-barrel ceremony) involves breaking open a "komodaru" (straw-mat barrel) with a wooden mallet all together at the same time. It is a performance which can be enjoyed by men and women of all ages and is essential for celebrating new beginnings such as weddings, new store openings, entrance ceremonies and graduation ceremonies.

A "komodaru" will be delivered without the lid sealed on top. The lid itself, the wooden mallet, and bamboo ladle will be included as part of a set and so "kagami biraki" can be performed straight away with the products' arrival.
Since it will be delivered without the contents, you can pour in drinks other than sake as well.

※It can hold up to a maximum of 18 liters. If you put in 21 liters, there is the possibility that liquid might splatter when the lid is broken during the sake-barrel ceremony.
※Japanese sake is not included in the product.



included with kagamiita

Please choose your ideal size from options when you purchase.
The detail of each size is below.

Material
Core: polystyrene foam / weight: concrete block / container: stainless / external material:polyethylene・rope:polypropylene

Small 7
Product size: D40cm×H40cm
Product body weight:4.3kg
Packing size: 44×44×44cm
Package weight : 6kg