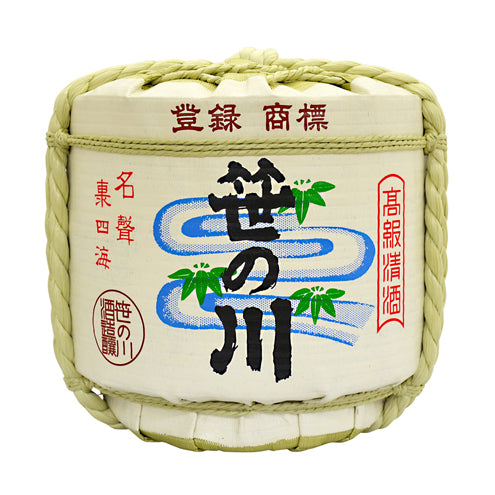 Display Sake-Barrel / Half Type / Sasanokawa / Small 18
A historic brewery founded in the middle of the Edo period (1765) in the second year of Meiwa.
In this place, which is located between the Abukuma River and its tributary, the Sasahara River, once had a castle called Shinkawa Castle, and there was also a palace where Mitsuhide Ashikaga (later Mansada), the grandson of Ashikaga Takauji, was stationed. It is located near the Shinkawa Castle Ruins and has a history of more than 240 years for the first time to brew sake.
In the Asaka Basin, which embraces water and the lush Abukuma River, he is engaged in sake, shochu, whiskey, etc. in the cold wind of winter called Azuma Oroshi.
At Sake brewing, "koji" used for specific name sake such as Ginjo sake and junmaishu was hand-made in a special koji room to improve the quality of sake.
He also contributes to the town's revitalization by brewing sake using local rice, including the brewery in winter and the Sasa-no-Kawa, which can be tasted every season.

The display GENERIC BARREL is a GENERIC BARREL for the purpose of decorating.
It can be widely used as a Japanese interior and exterior in the shop, as a Japanese production product at the event.
There are many ways to decorate. You can expect a powerful Japanese effect if you simply stack it vertically or in a pyramid shape, or if you arrange it side by side.
Depending on the design and lighting, it can be a calm production and a flashy production.
There is only half the depth of the normal type. It is the lightest product. Therefore, it is possible to decorate the walls and exhibit them in places with limited depth.
*This product does not become independent.
*Alcohol cannot be placed in THE GENERIC BARREL.
*Rope loosening and damage due to aging, peeling of the material may occur.
*If it is installed outdoors, deterioration may proceed more than expected due to direct sunlight or wind and rain.
*Or put the heavy object on the top, if you apply a strong force, the internal core material will be damaged, there is a possibility that the shape will change.
Product size: Maximum width 40 x depth 22 x height 44 cm
Product body weight (kg): 0.8kg
Packing size (cm): 44 x 44 x 44 cm
Package weight (kg): 2.5kg