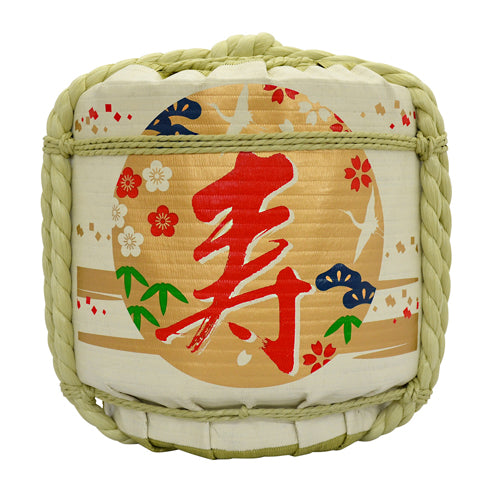 Display Sake-Barrel / Half Type / Kotobuki-5 / Small 18
It is a design featuring the character of Kotobuki of the gorgeous red Chinese character, a bright white crane, a blue pine, a red plum, and green bamboo mainly in gold around it.
The crane is a bird of Kichijo which represents longevity, and it has been respected for a long time as a bird of the symbol of good friends because the married couple's relations are very good and it accompanies the life. The character of the life of the Chinese character in the center shows the word of the celebration, the happy thing, the celebration, and the joy.
Pine, bamboo, and plum blossoms. To withstand the cold of winter, pine and bamboo keep green, and plums bloom. It is called "Sanyu of the year cold" from ancient time, and it is the one that it is happy.
It is a happy symbol, but it is gathered in a calm atmosphere, and it can be used for weddings in Western clothes without sticking to Japanese clothes.


[Half Type specification]
It is only half the depth of the normal type. It is the lightest product. Therefore, it is possible to decorate the walls and display them in places with limited depth.

Display Sake-Barrel is a Display Sake-Barrel for decorating purposes.
Japanese interior and exterior in the shop, it can be widely used as a Japanese production at the event.
There are many ways to decorate. You can expect a powerful Japanese effect when simply stacked vertically or in a pyramid shape, or arranged side by side.
Depending on the design and lighting, it can be a calm production or a flashy production.
The large Display Sake-Barrel can be used as a Table, and there are also types that can be used for product showcases with a little in-deep at the top.

* This product does not become independent.
* You can't put alcohol in Display Sake-Barrel.
* Aging may cause loosening, damage, or peeling of the material.
* If it is installed outdoors, deterioration may proceed more than expected due to direct sunlight or wind and rain.
* There is a possibility that the internal core material is damaged and the shape changes when the heavy object is put on the top and a strong force is put.

Product size: Maximum width:40 Depth:22 Height:44 (cm)
Product body weight (kg): 0.8kg
Packing size (cm): 44×44×44㎝
Package Weight (kg): 2.5kg