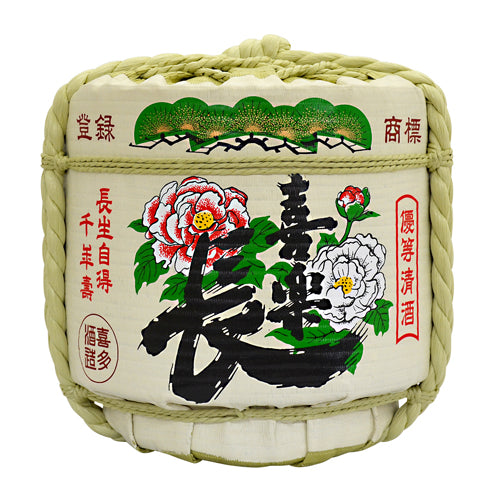 Display Sake-Barrel / Half Type / Kirakucho / Small 18
Founded in the third year of Bunsei (1820) in the late Edo period.
The first Kita Gizaemon began brewing sake in Yakkaichi in the Koto Plain in Omi, where harvesting fruitful Omi rice can be harvested.
At that time, the name of the shop was called Tenmanya, and rice was bought from a neighboring farmer, and sake brewing was made, and since then, he has inherited the brewing industry from generation to generation.
It is said that the brand name "Kirakucho" was named with the thought that customers would be able to live a long life while drinking sake.
For us, making sake is synonymous with raising a child. However, we think of sake as something that God dwells, so to speak, that, while we are our lovely children, at the same time we feel awe. that it is made by someone beyond human wisdom. We think of sake as such conflicting existence, and that is the "heart" of Kirakucho's sake brewing.

The display GENERIC BARREL is a GENERIC BARREL for the purpose of decorating.
It can be widely used as a Japanese interior and exterior in the shop, as a Japanese production product at the event.
There are many ways to decorate. You can expect a powerful Japanese effect if you simply stack it vertically or in a pyramid shape, or if you arrange it side by side.
Depending on the design and lighting, it can be a calm production and a flashy production.
There is only half the depth of the normal type. It is the lightest product. Therefore, it is possible to decorate the walls and exhibit them in places with limited depth.
*This product does not become independent.
*Alcohol cannot be placed in THE GENERIC BARREL.
*Rope loosening and damage due to aging, peeling of the material may occur.
*If it is installed outdoors, deterioration may proceed more than expected due to direct sunlight or wind and rain.
*Or put the heavy object on the top, if you apply a strong force, the internal core material will be damaged, there is a possibility that the shape will change.
Product size: Maximum width 40 x depth 22 x height 44 cm
Product body weight (kg): 0.8kg
Packing size (cm): 44 x 44 x 44 cm
Package weight (kg): 2.5kg