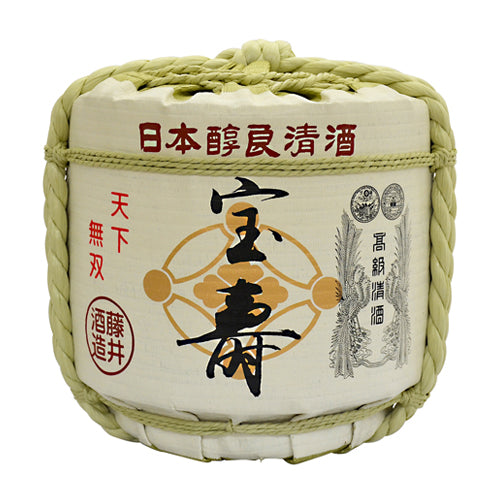 Display Sake-Barrel / Half Type / Hoju / Small 18
The end of the Edo era, Bunkyu 3rd year (1863), a pure rice brewery with a history of more than 150 years.
The land of Takehara, Hiroshima Prefecture, faces the calm sea of Setouchi, also known as "Aki no Ko-Kyoto", and it is a scenic town with beautiful streets and historic shrines and temples lined with old wooden Japanese architecture.
It is a land blessed with clean water so that groundwater is still used as tap water, and at the same time, a rich food culture has been built by obtaining abundant seafood. More than 150 years have passed since sake brewing that takes advantage of the blessings of nature. It is not a brewery that produces a lot of quantities, but that's why we want to continue to make sake that we can do.

The display GENERIC BARREL is a GENERIC BARREL for the purpose of decorating.
It can be widely used as a Japanese interior and exterior in the shop, as a Japanese production product at the event.
There are many ways to decorate. You can expect a powerful Japanese effect if you simply stack it vertically or in a pyramid shape, or if you arrange it side by side.
Depending on the design and lighting, it can be a calm production and a flashy production.
There is only half the depth of the normal type. It is the lightest product. Therefore, it is possible to decorate the walls and exhibit them in places with limited depth.
*This product does not become independent.
*Alcohol cannot be placed in THE GENERIC BARREL.
*Rope loosening and damage due to aging, peeling of the material may occur.
*If it is installed outdoors, deterioration may proceed more than expected due to direct sunlight or wind and rain.
*Or put the heavy object on the top, if you apply a strong force, the internal core material will be damaged, there is a possibility that the shape will change.
Product size: Maximum width 40 x depth 22 x height 44 cm
Product body weight (kg): 0.8kg
Packing size (cm): 44 x 44 x 44 cm
Package weight (kg): 2.5kg