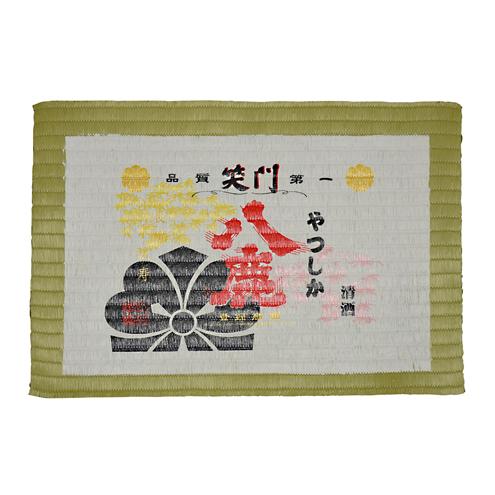 Display Sake-Barrel / Frame Type / Yatsushika / 10pc set
Founded in the first year of Ganji (1864) at the end of the Edo period.
It occurred in the Kusu Basin, where the subsoil water that springs out from the beautiful Kujyu mountain range and its rich and clean water flows in.
At that time, Funakoya was named "Funakoya". The storehouse at the time, when the oldest existing Kotee in Kyushu was depicted, still tells the story of its history. The spirit of sake brewing leads to Bushido. God is always by his side and he sees his heart. Sake may be made by serving God. The belief of uncompromising sake brewing is passed down from generation to generation by the hands and hearts of the excellent brewer, and it matures over time and approaches the ideal sake brewing. Today, with the aim of "Jinju", we are working on straight sake brewing with the spirit that beautiful sake brewing is a beautiful heart-making. Jinju: There is a virtue and a long life.

The woven straw mat for vocal tablet is a woven straw mat intended to be placed in a vocal tablet and decorated.
It can be widely used as a Japanese interior and exterior in the shop, as a Japanese production product at the event.
There are many ways to decorate. Put it in a votive tablet and decorate it, or put it on a glass-walled table.
Please use it for a little accent, Japanese production, etc.
*The votive tablet is sold separately.
*Rope loosening and damage due to aging, peeling of the material may occur.
*If it is installed outdoors, deterioration may proceed more than expected due to direct sunlight or wind and rain.
*Please contact us for size changes.
The size is about 37 cm × 28 cm, but you can change it to your favorite size. (Extra cost)
(The printing surface size of the brand logo does not change. )
Product size: width 37 x height 28 cm
Product body weight (kg): 1.0kg (@0.1kg)
Packing size (cm): 68 x 52 x 12.5 cm
Package weight (kg): 3kg