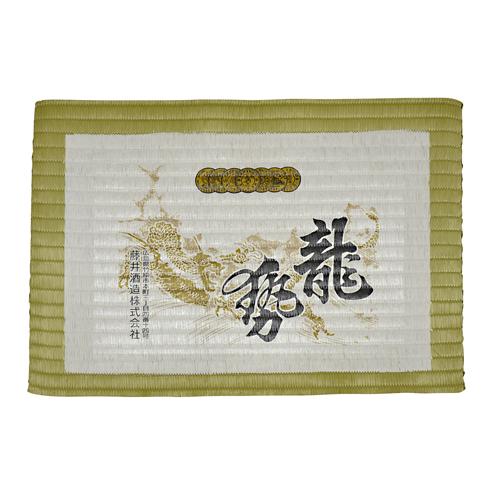 Display Sake-Barrel / Frame Type / Ryusei / 10pc set
The end of the Edo era, Bunkyu 3rd year (1863), a pure rice brewery with a history of more than 150 years.
The land of Takehara, Hiroshima Prefecture, faces the calm sea of Setouchi, also known as "Aki no Ko-Kyoto", and it is a scenic town with beautiful streets and historic shrines and temples lined with old wooden Japanese architecture.
It is a land blessed with clean water so that groundwater is still used as tap water, and at the same time, a rich food culture has been built by obtaining abundant seafood. More than 150 years have passed since sake brewing that takes advantage of the blessings of nature. It is not a brewery that produces a lot of quantities, but that's why we want to continue to make sake that we can do.

The woven straw mat for vocal tablet is a woven straw mat intended to be placed in a vocal tablet and decorated.
It can be widely used as a Japanese interior and exterior in the shop, as a Japanese production product at the event.
There are many ways to decorate. Put it in a votive tablet and decorate it, or put it on a glass-walled table.
Please use it for a little accent, Japanese production, etc.
*The votive tablet is sold separately.
*Rope loosening and damage due to aging, peeling of the material may occur.
*If it is installed outdoors, deterioration may proceed more than expected due to direct sunlight or wind and rain.
*Please contact us for size changes.
The size is about 37 cm × 28 cm, but you can change it to your favorite size. (Extra cost)
(The printing surface size of the brand logo does not change. )
Product size: width 37 x height 28 cm
Product body weight (kg): 1.0kg (@0.1kg)
Packing size (cm): 68 x 52 x 12.5 cm
Package weight (kg): 3kg